Committees:
American History Essay Contest: This is for fifth through eighth grade students to write an essay on the topic chosen at national DAR, annually.
American Indians: Our chapter collects money at each meeting to send to two Indian schools that DAR supports and we have an Indian moment read by our chairman at each meeting.
Chapter Achievement Awards: Our treasurer is the chairman of this committee and she diligently encourages us to keep track of our projects and report our results so we can put them in our annual report to DAR and earn points and awards through our works for our chapter.
Conservation:Our chapter chairman gives us a conservation moment at each meeting and collects old batteries to recycle. Another member collects used ink cartridges to be recycled through a school project.
Constitution Week: Each September we celebrate this during the week of September 17-24 by getting a proclamation from the City of Sterling and Logan County Commissioners to commemorate and publicize the Constitution. Our chairman puts up a display at the library and contacts two schools with information about the Constitution.
DAR Good Citizens: This is a program for high school seniors that are chosen by their school that display volunteerism, dependability,
DAR Magazine: DAR prints a magazine called The American Spirit that has a variety of articles about history, travel, books, etc. We are all encouraged to subscribe.
DAR Schools: We donate money to one of the four schools that DAR supports each year; we also collect boxtops to send to the school that we send money to that year.
DAR Service for Veterans: We make items (lap blankets, Final Tribute Salute covers, adult meal covers) and supply personal items to the Cheyenne VA and help with serving the Veterans Day lunch at the library, we also attend events that celebrates and honors our local veterans. We collect canceled commemorative stamps to send to a Tuscon, Arizona, rehab center for injured veterans.
Flag of the United States of America: Our chapter chairman gives us a flag moment at our meetings and informs us when to fly the U.S. Flag.
Literacy Promotion: We promote literacy by tutoring and ready to youth in our families.
Membership: There are reports that our chairman shares with us about DAR membership and also the status of chapter applications and encourages us to promote ladies to consider DAR membership.
National Defense: The chairman reads an article from the National Defender, which is on the National DAR website, to our chapter at our meetings.
President General's Project: Our national leader, the President General has projects that she aspires to complete during her three year term. We support her through donations yearly and by purchasing items that are earmarked to help with her projects.
Public Relations: This is co-chaired and the ladies that do this send articles to the local newspapers and a local radio station to announce events that we are participating in.  The more coverage we get the more we promote DAR! We print a chapter pamphlet, have a closed Facebook group and a chapter website on the state website. We have spoken at local events to inform the public what DAR is.
Service to America: Our members participate in many volunteer services and we tally our hours online on the national DAR website.
America 250! Our committee is working on presenting patriot moments at our meetings.
Women's Issues: The chairman gives a highlight that is current to that month on this topic.
Recent Activities:
Installation of officers 2022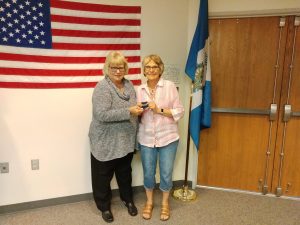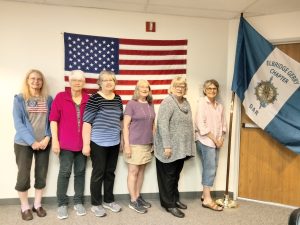 100 Year Celebration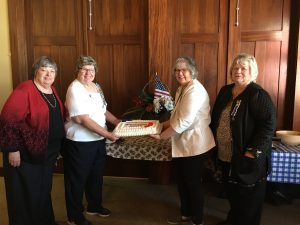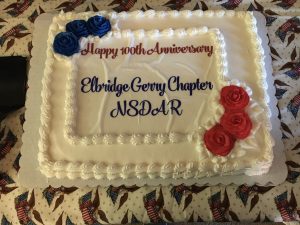 State Regent's visit, September 11, 2021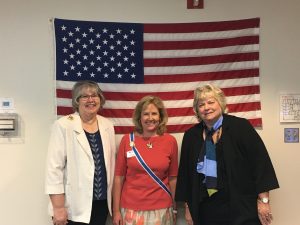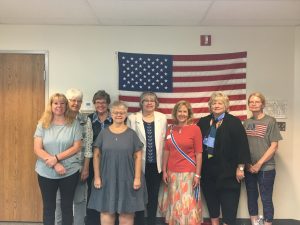 Wreath laying, Memorial Day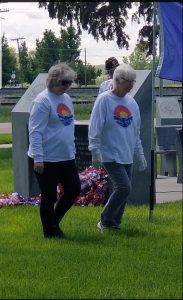 Sewing final tribute covers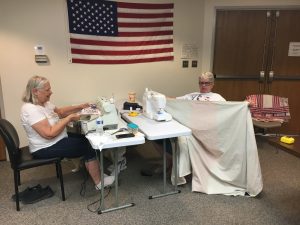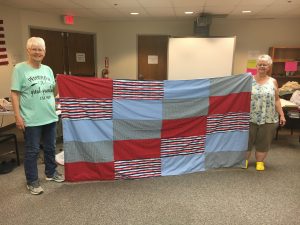 Fidget mat for VA nursing home